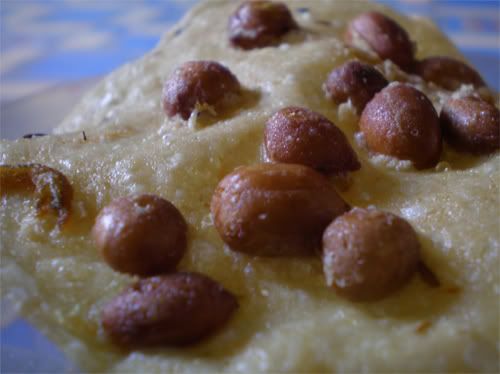 Rempeyek kacang
pick a cracker Javanese fried salty made of flour (rice flour usually) with other components bound or crispy flour mixture is coated. The most common types of Rempeyek are Peyek Kacang or granules peanuts, but other components may also be used, such as
Teri
(dried anchovies), Rebon (small shrimp) or EBI (dried shrimp). Today there are typically Rempeyek in Indonesia and Malaysia. Coconut milk is often confused, salt and spices such as coriander, candlenut and ground into flour mixture. May add some recipes also add diced fresh citrus leaf smell and taste. Mixed spice mixture or deep fried sprinkled with granulated element in ample hot coconut oil. The exact mixture acted as the connecting factor for granules (peanuts, anchovies, shrimp, etc) hardened when frying and turn into golden brown crispy cracker.
Indonesian peanut meal and delicious
as a snack with your aperitif, as well as a small accomplishment with your meal. It seems like a small thin cookie and is prepared much the same way as
American pancakes
.
Ingredients
:
200 gr. Rice Flour
½ Tsp. Baking powder
250 ml. Coconut milk
½ Tsp. Coriander (ground)
½ Tsp. Salt
1 Clove Garlic (chopped)
Pinch of Cummin (ground)
Pinch of Turmeric (ground)
1 Candle Nut (grated)
100 gr. Raw Peanuts
Oil for frying
Preparation
:
Mix the Rice flour with baking powder and coconut milk, then add Coriander, Cummin, Turmeric, Garlic and Candle nut. Mix well. Now add the slightly crushed Peanuts and Stir well. This will give you a slightly runny batter mix. Heat oil in shallow pan and fry batter by the tablespoon. drain on absorbent paper.